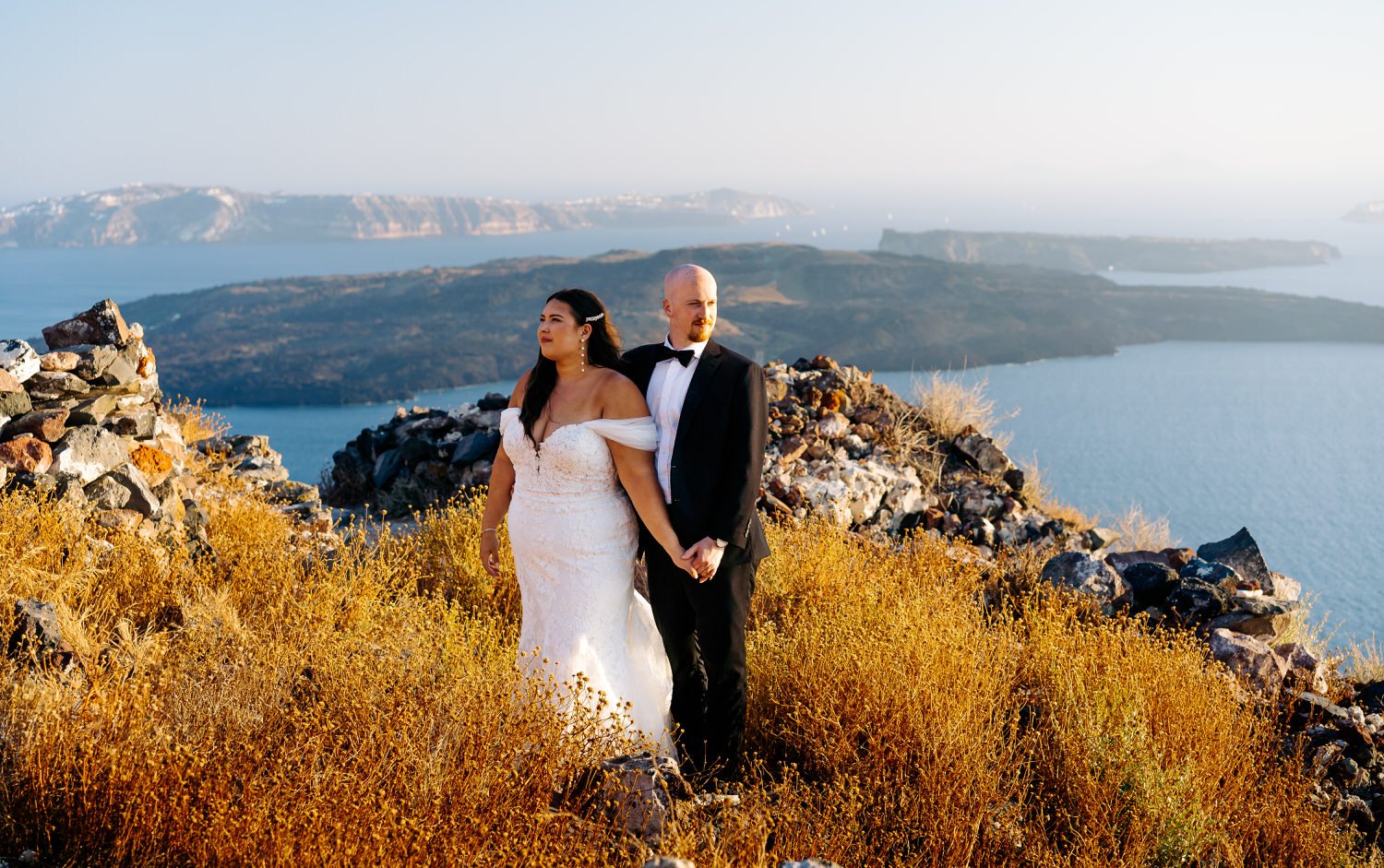 Where to Elope in Santorini (Updated for 2024)
W
W
Where to Elope in Santorini
(Updated for 2024)
Hey! Firstly, we're Jake + Genessa, English-speaking wedding photographers based in Madrid, Spain. We travel all over Europe photographing elopements for couples, Santorini, Greece being one of our favourite destinations. So, here is our top list of Where to Elope in Santorini!
Updated for 2024: This list is updated for 2024, so, these are the freshest elopement locations in Santorini! If you're planning to elope in Santorini, then you're probably looking for all the insider tips on venues and vendors. You've hit the jackpot.
Criteria: We've picked these top locations for where to elope in Santorini based on:
Fellow vendors' recommendation
Our personal experience
Level of intimacy
Finally, the quality of services provided
You won't find all these Santorini wedding venues on other touristy blogs— because they're coming from someone who actually knows Santorini and can also personally vouch for them!
Table of Contents:
Where to Elope in Santorini:
Venues in Santorini
Nature locations in Santorini
Hotels / Villas in Santorini
Churches in Santorini
Viewpoints in Santorini
Santorini Elopement Photographers
How much does it cost to elope in Santorini?
When to elope to Santorini
Elopement Venues in Santorini
Our favourite wedding venues in Santorini include event spaces for luxury events, windmills, wineries, and more. Our favourites for small destination weddings (30-50 guests) are Cavo Ventus Luxury Events and El Viento Santorini because they are on the other side of the caldera, escaping the crowdedness of Oia and Imerovigli. Every one of these venues have an amazing view of the caldera ensuring the most breathtaking sunsets. Here's our full list best wedding venues in Santorini:
Cavo Ventus Luxury Events (Our favourite!)
El Viento Santorini
Rocabella Santorini Weddings
Santorini GEM
Santo Wines
Le Ciel Santorini
The Diamond Rock
Elopement Nature Locations in Santorini:
While Santorini is a small island, it is FULL of nature. If the elopement you're dreaming of includes a cliff range, a volcanic crater, or white buildings speckling the background, then you should take a look at these locations below. We've explored these locations especially for the adventurous couples who want to make their Santorini elopement unique:
Beach Elopement Locations:
Eros Beach (Sunrise)
Red Beach (Sunrise)
Mountain Elopement Locations:
Skaros Rock (Sunrise or sunset)
Heart of Santorini (Sunrise)
Viewpoint of caldera from Fira (ask us about the exact location!)
Hotels + Villas in Santorini:
An easy and most-likely cheaper option is to hold your elopement at a hotel or villa in Santorini. There are lots of beautiful options that can pull off a wedding venue-look with views to the sea and cater up to 30 guests:
Santorini Hotels:
Hotel Sunny Villas
Astra Suites
Divine Cave Experience
Pegasus Suites & Spa Hotel
Santorini Villas:
Dana Villas & Infinity Suites
Villa Lukas
Vallais Villa
Saint John Villas Oia
Eden Villas by Canaves Oia
Sunset View Villa Santorini
Churches in Santorini
If you want to have your small elopement ceremony at one of the famous white Santorini churches, then this is the list for you! These churches are open to the public and are available for this kind of use. Any of these options would be good for 3-4 people (the couple plus an officiant and maybe a witness or two). If you hire us as your photographers, you won't have any problems with restrictions on these locations.
St. John the Theologian Holy Orthodox Church – (Best time: sunset)
St. John the Beheaded or Katiforis Holy Orthodox Chapel – (Best time: sunrise)
Mother of Lord Theoskepasti Holy Orthodox Church – (Best time: sunset)
Megalochori Church – (Best time: anytime).
Blessed Virgin Mary Catholic Church / Three Bells of Fira – (Best time: sunrise)
Church of Agios Nikolaos – (Best time: sunrise)
Elopement Viewpoints in Santorini
Make things really your own and do something in a natural park or finding a good view for your elopement, then this list is for you! Check out these other natural parks in Santorini:
Viewpoint from Oia Castle – (Best time: sunrise)
Viewpoint from Skaros Venetian Fortress – (Best time: anytime)
Viewpoint of Imerovigli from Fira – (Best time: sunset)
Heart of Santorini Viewpoint – (Best time: sunrise)
Southern Lighthouse Viewpoint – (Best time: anytime)
Top Santorini Wedding + Elopement Photographers
One name: Jake + Genessa Photography! If you're still looking for the perfect photographer for your Santorini elopement, then go and take a look at our portfolio. What you'll see is that we capture the real, authentic moments between couples, and also do it artistically. If you truly feel connected to our work, reach out and fill our contact form— let's chat and get your date booked in our calendar! So, let's get the magic started! Contact us here in order to have your Santorini elopement photographed by us.
---
"Jake and Genessa create MAGIC with their cameras! We hired Jake and Genessa to be our wedding photographer and videographer for a 3-day destination wedding in Santorini, Greece.
From the very beginning, I felt like we were in safe and capable hands. They were so organized and knowledgeable and kind! We loved spending time with them and feel so happy that we chose them to be our wedding photographers. We love their dedication to getting the perfect shot and they truly did deliver so many incredible photos, and could NOT be happier with their work. They were so prepared and had done amazing work location scouting prior to our wedding and it was all seamless.
I cannot recommend them enough, not only are they unreal photographers, but they are such kind and fun people. All of our wedding guests absolutely loved them. Thank you so much Jake and Genessa – we will cherish these photos for a lifetime."
— Vanessa + Blayne,
2022 Santorini Destination Wedding
---
Santorini Wedding + Elopement Photography Packages
Without a doubt, our Santorini elopement packages are designed to make things easy and fun for you. We'll also guide you through the whole process of planning your elopement in Santorini, helping you:
find the most epic locations for your ceremony and your pictures,
connect with other top Santorini vendors, and then

create an elopement timeline

for the day so that you can have the experience you're dreaming of, without having to worry about when the best light is, or how long to plan for different parts of your day.
Our Santorini elopement and wedding packages range from €3.000 – €5.500 and include taxes.
How much does it cost to elope in Santorini?
I'm sure one of your questions have been— how much does it cost to elope in Santorini? According to Statista, traditional weddings in Santorini have an average cost of 24 thousand euros. However, elopements in Santorini can be held as low as 9-10 thousand euros, depending on the main things like venue, catering, and hours of coverage as well.
One of the most beneficial things about planning an elopement in Santorini is that you have more flexibility in gaging where you want your money to actually go. Also, the venue, wedding planner, and wedding photographer and videographer (it can be us! I promise we'll make it your experience amazing) will handle the majority of the logistics, and you just get to plan the fun stuff.
Should I hire a wedding planner for my elopement in Santorini?
While you may not think you need a planner for your elopement in Santorini, we highly recommend it! On top of taking care of all the legal stuff (which can be a headache), they also make your elopement experience completely easy and smooth. Jake and I work some of the top wedding planners in Santorini, so when you contact us, we can get you in touch with all the right people. One of our favourite planners in Santorini are Divine Weddings.
When's the best time to get married or elope in Santorini?
The most popular time to get married in Madrid is between April and October, especially June and September, because of the ideal weather (July-August can be quite hot). It's recommended that you plan to have your wedding in Santorini at least a year to two years in advance if you plan on having a summer wedding, because venues book up fast!
On the other hand, if you're planning your wedding for the non-busy months or on a weekday, then you can expect for the venues to have more availability. Yet, it's still recommended to book your vendors as soon as possible.
Other Planning Resources
Those are our top places on Where to Elope in Santorini— So, I hope this has been helpful for you in finding a venue for your dream wedding in Santorini! And also, there's a bunch more venues up our sleeves that you can feel free to contact us about!
Lastly, if you'd like to keep up with our latest adventures and some really awesome resources make sure to check out our Instagram.
DESTINATION WEDDING IN SANTORINI
Video by Jake + Genessa Photography
AS Europe WEDDING & ELOPEMENT PHOTOGRAPHERS