B
Barcelona Proposal at Marimurtra Botanical Gardens
Spain is one of the most beautiful countries in the world during whole year, with around 7 months of nice weather. Because of their famous beaches, mountains, and weather, it's one of the top places to visit in Europe. Out of all of Spain, by all means visiting Barcelona is a must. I want to show you how our latest Barcelona Proposal at Marimurtra turned out and hopefully give you some ideas for your proposal!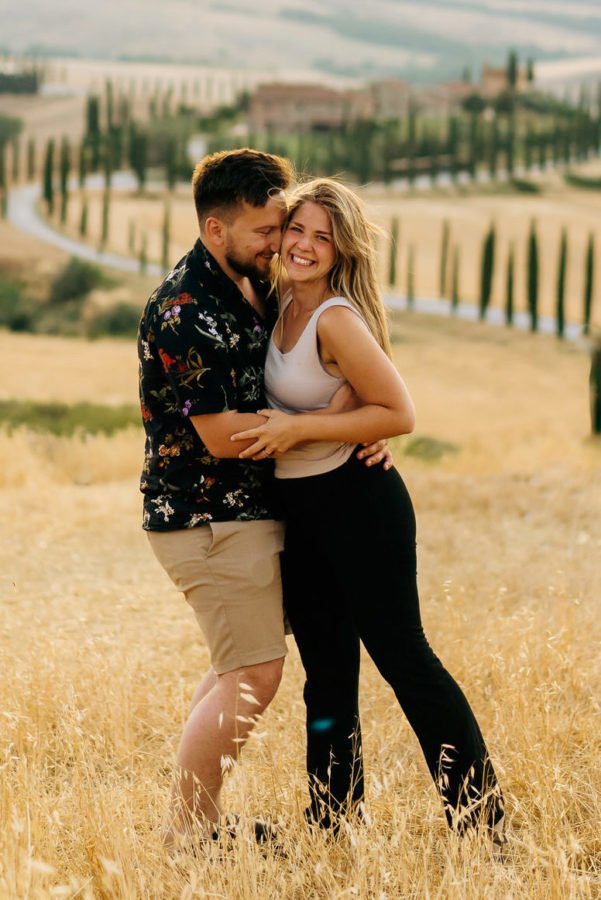 Meet us— Jake + Genessa
We are Spain Wedding Photographers, and above all, seriously love what we do. If you're planning a trip to Spain or Barcelona, want to have an amazing experience AND get amazing photos, then we're your people. Contact us to get photos like these for your trip!!
If you want unique + different photos that ultimately resemble you authentically, then I hope you take the chance to contact us to photograph you.
Also, and if you're wondering who photographed all these beautiful photos on this blog, Me and my husband Jake took them!
Marimurtra Botanical Gardens— the Perfect Proposal Location
Located about 1 hour north from Barcelona city, you'll find yourself in a cute little coastal town called Blanes in Girona. Undoubtedly, one of the most iconic and well-loved attractions in Blanes is their botanical gardens: Marimurtra Botanical Gardens. This is undeniably one of our absolute favourite locations that Jake and I love to take our couples for photo sessions, and I'll tell you why:
This garden is brimming with exotic plants and foliage that you don't get to see everyday. On top of doing a photoshoot you'll be experiencing tropical greenery.
The recognizable and quintessential staircase leading down to a seaside lookout point with views that will blow you away.
It's only an hour away from Barcelona city, so if you're looking for a fun day trip activity to do while you're in Barcelona, then this is perfect!
If you're wondering where to propose and you're looking for something romantic, different, and fun, then this is the spot. Your girl will be so enchanted! I mean, just look at these photos.
Tips for Proposing at Marimurtra Botanical Gardens
If you're planning on proposing in Barcelona, specifically at Marimurtra Botanical Gardens, we're so excited for you! Here are our tips for planning a proposal at Marimurtra Botanical Gardens:
Rent a car for the day. This botanical garden is an hour away from Barcelona city and you don't have another option (other than taking public transportation) to reach it without a car. If you hire us as your photographers, we offer an option to carpool with us.
Make sure you go at the right time. The garden closes at 3pm on weekdays and 5pm on weekends. Last admission is one hour before closing. For best lighting, we suggest going at either 10am or 4pm in the spring or autumn.
Make a proposal plan with your photographer. Whether you want us to show up as you're proposing or pose as "guides" for your tour through the garden, we'll help you come up with a fool-proof plan to guarantee a success proposal!
Note: The botanical garden has an entree fee of 8€ per person. On top of that, if you're planning on doing a photo session, they have a photographing fee of 100€. If you hire us as your photographers, that fee is included in our session pricing so you don't have to worry about any extra fees!
Near Marimurtra Botanical Gardens— Sant Joan de Blanes Castle
After this specific surprise proposal, we left the gardens and then went to a nearby location called the viewpoint of Saint Joan of Blanes Castle. As this point, you get a beautiful sunset view of the coastal town through the castle ruins.
Note: Generally, this is a hotspot for watching the sunset for tourists and locals, too! Make sure you're quick to take photos at the most iconic spots due to crowds.
Top Barcelona Proposal Photographers
One name: Jake + Genessa Photography! We would love to capture this special moment for you! Included in our Proposal Package is a free video call with us to go solidify logistics, as well as an option for carpooling with us to Marimurtra Botanical Gardens if you need it!
So, I hope this has been helpful for you as you plan your Barcelona Proposal at Marimurtra Botanical Gardens! Additionally, there's a bunch more tips and tricks that you can feel free to contact us about.
We would love to hang out and get to know you better, and you'll get amazing photos!
Barcelona Surprise Proposal Packages
Our proposal packages are about more than just photography, however. We'll actually guide you through the whole process of planning your engagement photoshoot in Barcelona, and also help you to find the most epic locations for your engagement photos.
Our Barcelona Engagement package at Marimurtra Botanical Gardens is 950€ and include all taxes and travel expenses.
Other Planning Resources
Lastly, if you'd like to keep up with our latest adventures and some really awesome resources make sure to check out our Instagram.
Here are some other related blogs:
A GUIDE: How to Plan a Wedding Elopement in Spain
First 5 Things to Do After Getting Engaged