How to Plan an Elopement in Ireland
One of the BEST places, in our opinion to elope. And we've seen a  lot of places! Here are some helpful tips that will hopefully help you with how to plan an elopement in Ireland!
So, you're thinking about eloping in Ireland!
The lush island of Ireland has countless fairytale-like castles, charming hotels, and jaw-dropping landscapes that were just made for saying "I do!" We love both big weddings and more intimate, small elopements. In our experience, both styles offer something beautiful and worth celebrating + documenting. As destination wedding photographers, we love meeting couples who are interested in eloping or getting married in Ireland. To date, we've had two weddings booked in Ireland and we cannot wait to go back. From our very first visit, we made sure to do our research on the country so we know everything there is to know about getting married, eloping, and all the legal stuff too.

The first thing we found out in researching how to plan a destination wedding in Ireland was that Ireland actually has special requirements for every couple who wants to wed there and each wedding venue option has their own rules.

Fortunately for you, though, we did all the research for you so that we can make the process of eloping or getting married Ireland as easy as possible! From dotting all the I's and crossing all the T's on your official government documents to finding the perfect wedding venue for your unique style, we've got you covered.
Meet Us— Europe Elopement Photographers
I'd love to introduce us— we're Jake + Genessa, European elopement photographers, based in Spain. We actually know a LOT of the best tips + tricks to planning an elopement in Ireland and getting the best elopement wedding photos!
Logistics For Eloping in Ireland
Before we get into it, we want to make sure the basics are covered. Some of the things to take into account are that you must be at least 18 years old to get married in Ireland, and you must be physically present in Ireland for at least three months before the big day. On top of that, you need to be ready to hand over €200. This is a pretty big factor if you're thinking of eloping or getting married in Ireland from abroad.
If you or your spouse are outside of Ireland, you'll need to request approval for a mail-in registration. To get approval, contact the office as soon as possible. Once approved, they will send you out all the forms that you need to get started. If you go this route, do keep in mind that at least five days before eloping in Ireland, you will still need to appear in person at the Registrar. If you have special circumstances, talk to them and make sure you're doing so with enough time to prepare everything before eloping in Ireland.
Requirements for Elopements in Ireland
When you are in Ireland, it is fairly easy to give notice of your intent to marry. In order to get your Marriage Registration Form (MRF), which is something that all religious and secular officiants will ask for, you'll need to bring a couple things with you.
Here is a quick rundown of what you will want to bring into the office to give your three-months notice and get your required form:
1) Passport
2) Passport photos
3) Birth Certificate (If you are not Irish, your birth certificate must have an apostille stamp from your embassy, with the exception of those from Denmark, Italy, France, Belgium, or Latvia)
4) Original final divorce decrees documents, if relevant
5) Original dissolution decrees for civil partnerships, if relevant
6) For ended Irish civil partnerships or marriages, a final decree of nullity and a letter from the court is needed
7) If you are a widow/er, you will need your deceased spouse's death certificate and previous civil marriage certificate
8) If you are living in Ireland as a foreigner, you will need evidence of immigration status (typically a GNIB card)
9) If you are living in Ireland or intend to reside here after the wedding, you will also need your PPS number
Preparing to Elope in Ireland
And, you'll need to be prepared to answer some basic questions they will ask you in your appointment:
1) Are you going to have a civil, secular, or religious ceremony?
2) When is your planned wedding date?
3) Where are you planning to get married?
4) Who is your officiant?
5) What are the names and dates of birth of your two witnesses?
Once you have all of your information together, you can book an appointment online or call the local office. The Irish government site has all of the details that you need here. While you will find offices all over Ireland, things can get busy leading into the wedding season, so plan plenty of time! We've heard that this can take up to eight months in Dublin at certain times of year!
If you have any questions about organizing your documents, contact the office ahead of time. You definitely don't want to arrive at the appointment missing any essential info. Just find the phone number of your local office on the site and give them a ring. If you arrive missing essential details, you will have to start the whole thing over from square one!
Important Notes:
You will need to be interviewed by a local official if one or both of you are not an EU citizen. This isn't a super difficult or stressful process, but it will be another appointment that takes place separately from the appointment where you declare your intention to marry. This can definitely add on some waiting time so be sure to allow ample time to get everything in order. Haha, see a pattern here?
If you're not from Ireland, it's absolutely essential to keep in mind that all documents that are not in the English or Irish languages will have to be accompanied by a certified English translation. Translation of documents take about a week, so make sure you plan ahead of time!
If one of you doesn't speak English, you will need to bring an interpreter to your marriage notification appointment. Some of the language used is very formal, legal, and sometimes downright strange so it's a good idea to look over the info online ahead of time just to familiarize yourself whether you are a native speaker or not (after all, who is a native speaker of the crazy language of governments anyway)! If one of you speaks Irish and not English, however, you are perfectly good to go.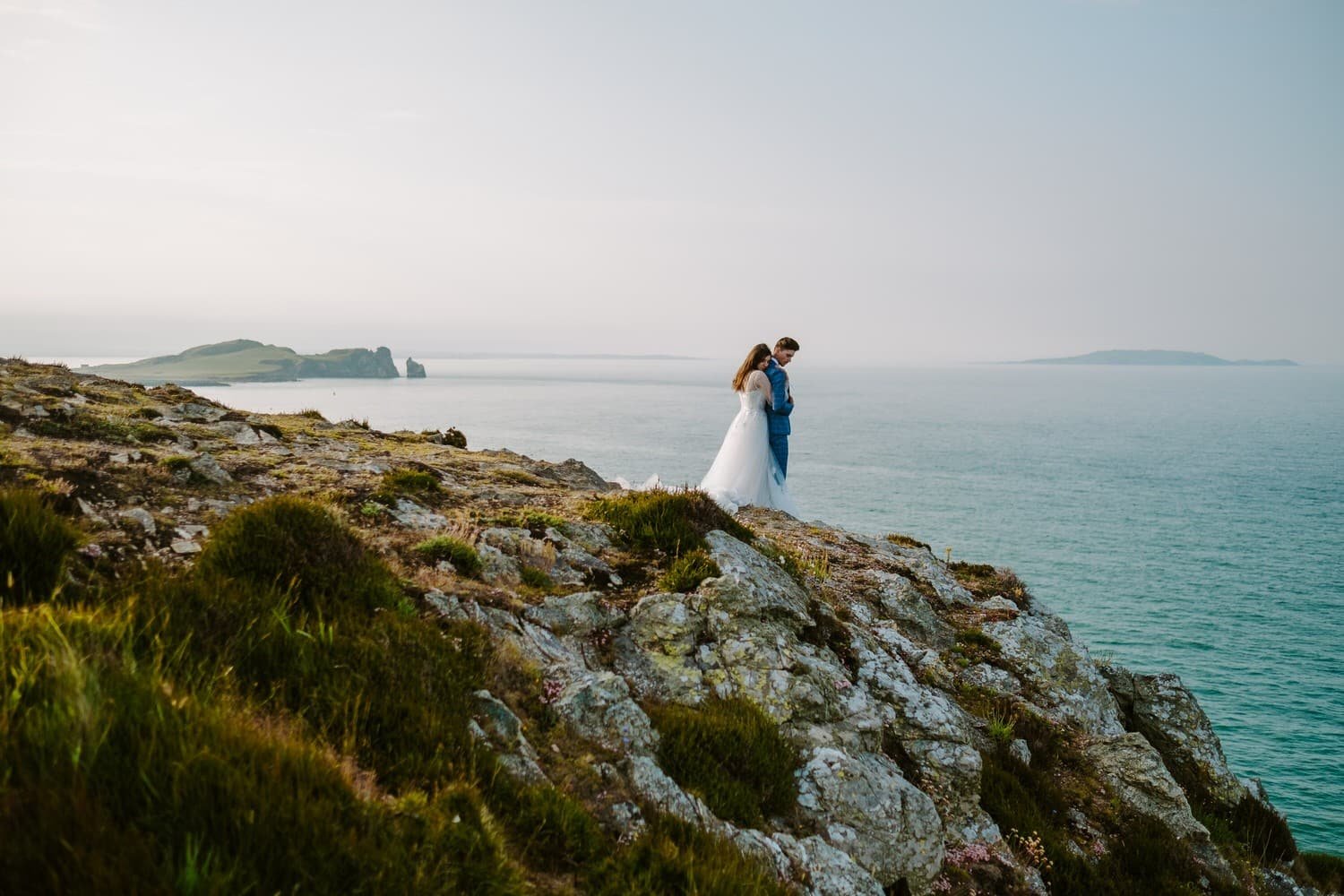 Best Elopement Locations in Ireland
From castles to manors to hotels, there are so many stunning places to consider when you are eloping in Ireland. We got the chance to take photos at the Howth cliffs the last time we were there, and it was beautiful. You can see the
photos here!
While some Irish wedding venues do require a minimum number of guests, that number might be smaller than you expect. And, of course, many wedding venues in Ireland have no minimum guest list requirements. That means that you can elope in Ireland at the wedding venue of your dreams!
As destination wedding photographers, we did our research and one of our favourite finds has been at the Ashford Castle, a striking 800-year-old castle that has been turned into a five-star hotel in County Mayo.
After-wedding Photoshoots
There are a TON of amazingly beautiful places to take trash the dress photos, or to have a simple after-wedding photoshoot. If you're unfamiliar with what a trash the dress session is, you can read our blog on what to expect from an after-wedding shoot, and why they're so  important!
In Ireland, the most well-loved and popular place in the Cliffs of Moher. These cliffs seriously look like something out of this world! Basically, there are rows and rows of sharply plummeting cliffs that create an absolutely stunning backdrop for photos. The number 1 go-to place for some dramatic and adventurous photos in the Cliffs of Moher.
if you're near the city of Dublin, there are some similar places you can go that don't take a 4-hour road trip to get to. The Howth Cliffs and surrounding area are also pretty amazing and will be way less touristy as well.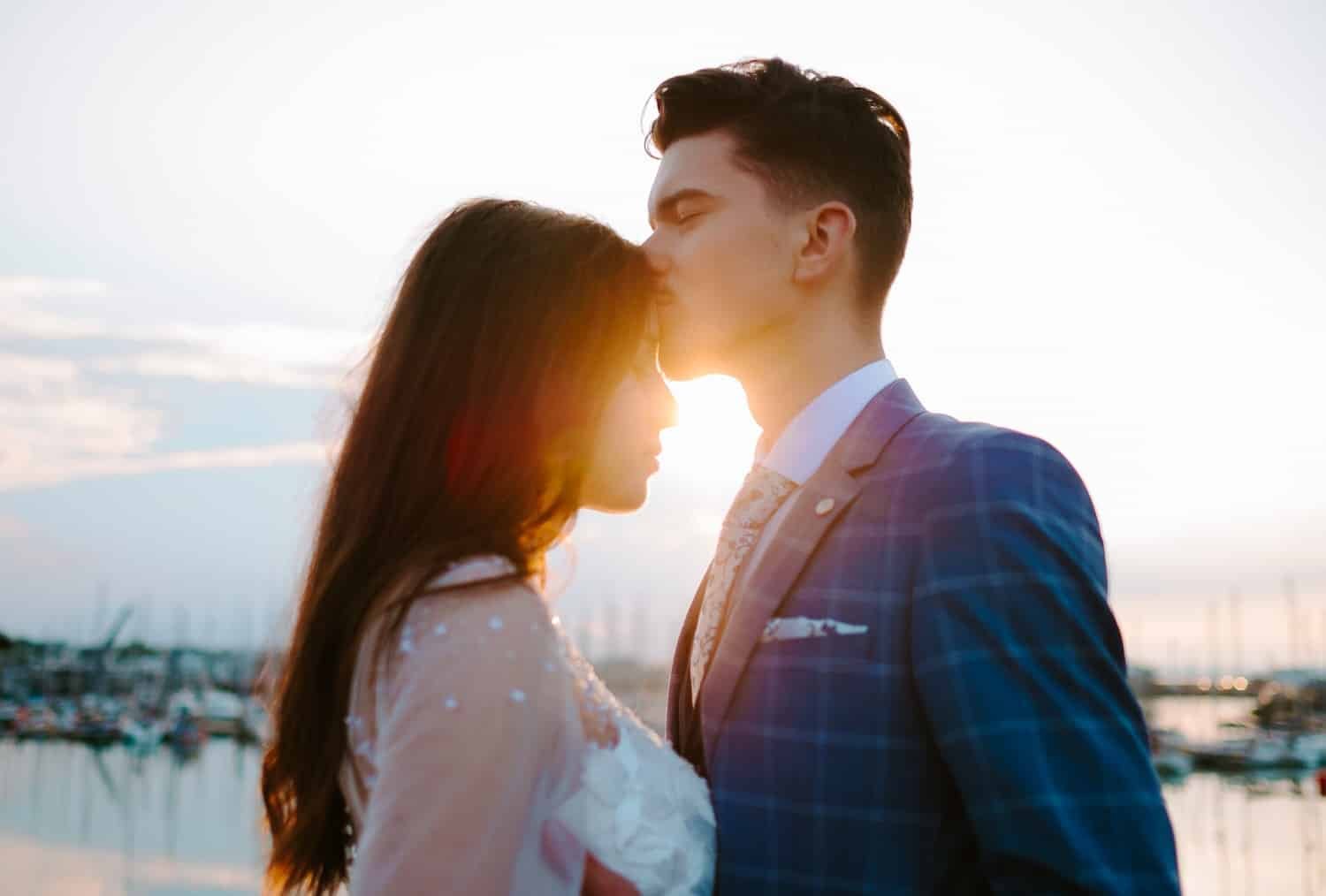 Ireland Elopement Photographers
Ready to plan your elopement in Ireland? 
If you are looking for a photographer to capture your adventurous elopement in Ireland, then you're in the right place! To sum up, it's worth going the extra mile to get the best wedding photographs for the best day of your life.
If you're at the start of planning your wedding adventure, I am so stoked for you guys! Jake and I are adventure wedding photographers, and we've been to Ireland many times for elopements! So, we know all there is about how to plan an elopement wedding in Ireland!
If you feel connected to out portfolio, Jake and I would LOVE to hear from you. Above all, we specialize in helping our couples have the greatest experience while getting awesome photos in the process! Click HERE to inquire with us.